Today is international gratitude day, I am thankful for a lot of things as Im sure you are.
I'm thankful that Feline Playful has us on the list so we can be seen and you can join us.
They are doing a blog hop from today to next Tues. Please let us know if you have come from there because we are giving away -2 GDT spots- as the prize. All you have to do is comment on the DT's work. They work so hard and do such wonderful items. Then Tell us your "hopping" and you will be included for the prize of GDT.
Then were thankful for this weeks sponsor: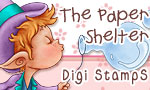 I love these 2 little love birds.
Well go over to For Fun to play along.